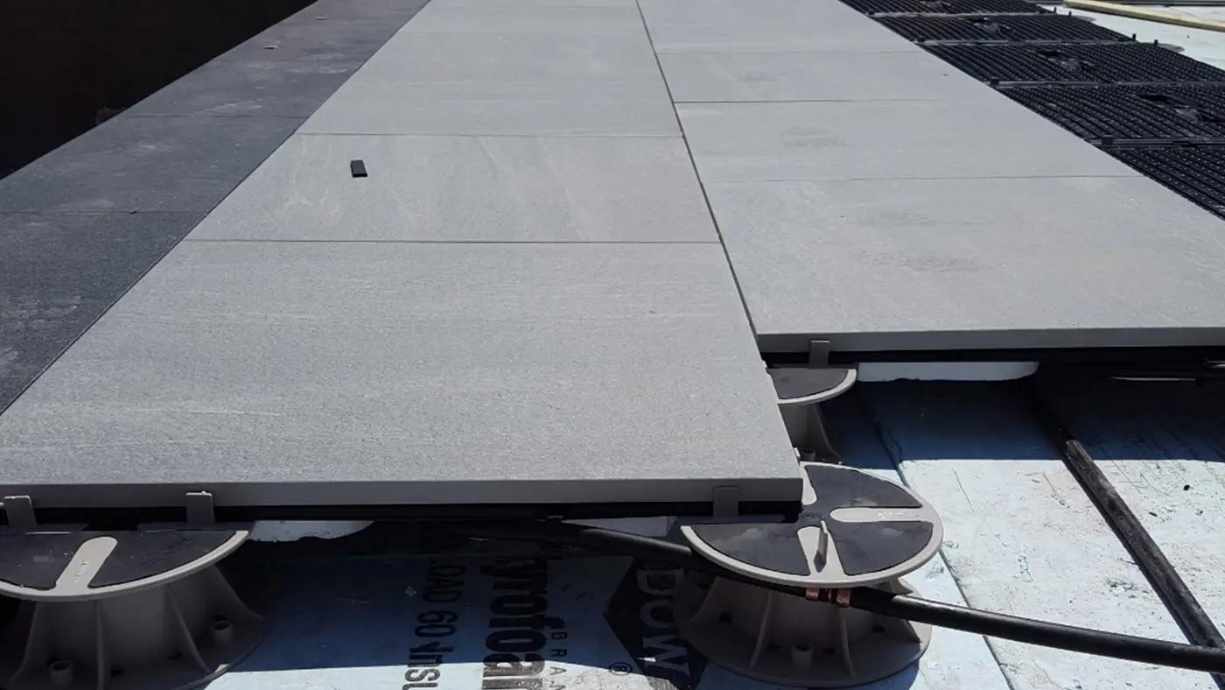 Snowbird Resort Cliff Spa 10th Floor Pool Deck
The roof deck and plaza paver market has historically been dominated by concrete pavers. Innovation within the hardscape industry has introduced porcelain pavers as a new option for elevated decks, patios, and high traffic areas. Here are a few reasons to consider porcelain pavers for an elevated hardscape project:
1. Color and Finish
Porcelain pavers are available in a wide variety of colors and finishes. Although it varies by manufacturer, these pavers can also be made to mimic different materials like marble, granite, or wood. The color options are expansive as well, and you don't have to worry about them fading because porcelain pavers are extremely durable and hard-wearing, which brings me to reason number two.
2. Durability
Despite being only 3/4″ – 1 1/4″ thick, porcelain pavers are extremely durable and have a high load-bearing capacity which makes them extremely suitable for high foot-traffic areas when installed on pedestals. They are also chemical and stain resistant which means they will hold up to all sorts of abuse and still maintain their finish.
3. Size
Porcelain pavers generally come in a few standard dimensions. Our favorite is the 24″ x 24″ square option. Other options include 12″ x 48″ and 24″ x 48″ to achieve different aesthetics. As mentioned earlier, porcelain pavers are a whopping 3/4″ thick which means that they are much lighter than concrete pavers, making installation much easier.
4. Safety
Although it is number 4 on the list, safety is perhaps one of the biggest benefits of using porcelain pavers. These pavers have low moisture absorption and are frost and slip-resistant. Another great safety feature of porcelain pavers is that they are compatible with a ThermaPANEL snow-melting system. Installing a snow-melting system can keep the pavers clear of snow without the hassle of shoveling.
For more information about how ThermaPANEL works, download our brochure. If you have a project that you want to discuss, contact us today.
You may also be interested in some of these other topics: