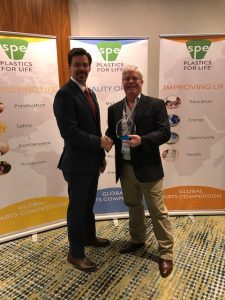 ThermaPANEL took home the first place prize for the Improving Life category at the 5th Annual Society of Plastics Engineers Plastics (SPE) for Life Global Parts Competition, held at the ANTEC® event in Detroit, MI from March 18-21. ThermaPANEL won First Place for the Heavy-Gauge Twin Sheet Division at the 2018 SPE Thermoformed Parts Competition held in Fort Worth, TX in September of 2018, qualifying it for entry into the ANTEC® 2019 event.
The annual ANTEC® is SPE's largest event and the world's leading plastics technical conference. A panel of judges selected the winners of the sixth annual Plastics for Life™ Global Parts Competition from among a wide range of parts that had already won in competitions at previous SPE events during the past year. In addition, a People's Choice award was presented to the part that received the greatest number of votes from ANTEC attendees. Parts were nominated for submission into one of four feature-based categories: Protecting Life, Improving Life, Sustaining Life, and Quality of Life.
Competition included an injection molded automobile headlight light bar, a 3D printed additive manufactured lift assist for automobile assembly, and a pressure formed cart enclosure for medical equipment. To learn more about the competition and the other winners, you can visit the Society of Plastics Engineers ,website.
Therma-HEXX is excited and honored to be selected for this award from a field of innovative parts from notable manufacturers including Placon, Ford Motor Company, The Coca-Cola Company, CMI Plastics, and Brewcraft USA.
Therma-HEXX is currently expanding production capabilities by upgrading its Portsmouth, NH manufacturing facility with a custom twin sheet thermoforming machine. This machine allows Therma-HEXX to form and assemble their proprietary ThermaPANEL heat exchange panels in one single facility.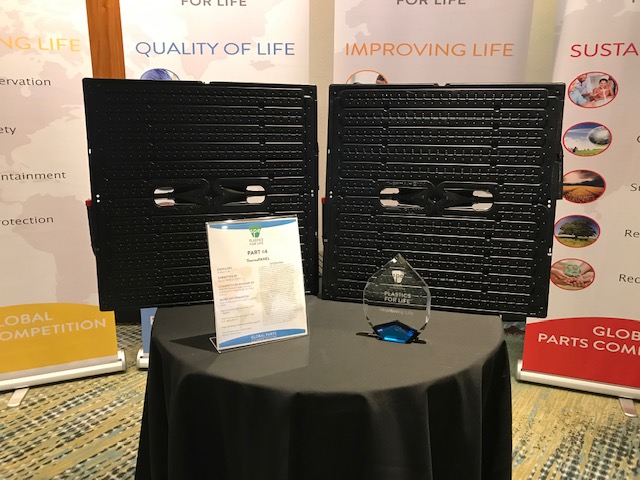 ThermaPANEL systems are installed beneath stone and paver hardscapes providing heat for snow and ice melting, comfort radiant heating or cooling, and solar pool heating applications. ThermaPANEL heating and cooling systems can be found in residential and commercial buildings across the US and Canada. To learn more about ThermaPANEL and the various applications and current installations, ,explore our website.
Therma-HEXX also wants to extend gratitude to Matt O'Hagan for helping to coordinate our part submission and for setting up our competition display at the ANTEC® Detroit event.