Many architects, designers, builders, and others run into shortcomings when working with pedestal-mounted pavers. A way to solve snow pile-up issues or paver overheating issues never existed; now it does.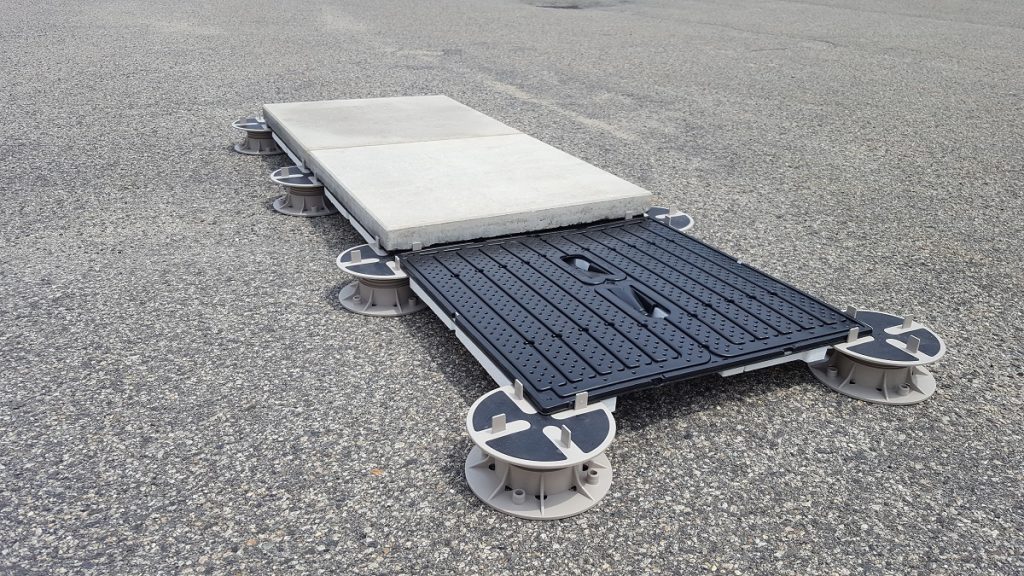 ThermaPANEL unit only adds .4 inches when used on a pedestal
The Problems:
Overheating
When pavers are mounted on pedestals, they are not in contact with many surfaces that can transfer energy; they are decoupled from the mass of the building. This means that when the sun is beating down on the pavers they get extremely hot, even in mild climates and weather conditions. On a regular basis, these surfaces reach 150 degrees Fahrenheit (enough to burn skin in a matter of seconds), and under certain conditions exceed 180 degrees Fahrenheit (enough to burn skin on immediate contact). When the surface temperatures get this hot it's not just dangerous, it's extremely uncomfortable for occupants.
Snow Melting
Pavers on pedestals in the past had no efficient way to experience heat transfer from tubing, and therefore it was impossible to run tube systems to de-ice or snowmelt paver areas. This becomes a problem in any area that can accumulate snow in usable space where added weight can cause structural damage or ice dams can cause damage or leaking. Also, in many cities, egress codes makes it necessary to prevent any snow accumulation. When snow removal is necessary on rooftop terraces, the solution can not only be complicated but also very expensive. Sometimes the only solution is to crane large amounts of snow, which is extremely expensive.
ThermaPANEL solutions:
Overheating
Extremely hot pavers, chock full of energy, provide an opportunity. By circulating turbulent heat exchange fluid through the ThermaPANEL, which maintains 95% contact with the paver surface, that energy can be transferred via a heat exchanger and used to heat a pool, spa. By utilizing this energy and sending it to other locations, the pavers are cooled to safe and comfortable temperatures and the costs associated with heating a pool or spa are mitigated.
Snow Melting
ThermaPANEL works both ways. By using a boiler, or other heat sources, the fluid circulating through the panels can be warmed, and efficiently heat the pavers to provide snow melting with little to no run-off. This system can be controlled automatically depending on the system's needs. Even paver temperatures will increase their lifespan significantly by reducing spalling along with eliminating the use of salt, chemicals, shovels, and ice chippers. Slip and fall accidents are also always a major concern as they can result in costly lawsuits, snowmelt systems can significantly reduce or eliminate the risk of such an accident.
Success Stories:
Gateway Canyons Resort in Gateway Colorado
Patio temperatures were exceeding 180 degrees Fahrenheit, and ThermaPANEL system effectively cooled this patio to a comfortable temperature while also supplying two pools and a spa with 100% of the pool heating. This alone saved the resort $140,000 in the annual pool and spa heating costs. Learn more here
Snowbird Ski and Summer Resort in Utah
Snowbird's Hidden Peak Lodge experiences 400-500 inches of snowfall per year and sits at over 11,000 feet of elevation. ThermaPANEL effectively snowmelts a large area for usage throughout even the harshest parts of the year. ThermaPANEL units are also installed at the Cliff Lodge Spa, where the entire roof deck is heated throughout the winter providing guests with access to the heated pool and spa.
For more information about ThermaPANEL systems download our brochure. If you have specific questions or are working on a project that requires snow melting or radiant heating, contact us today.