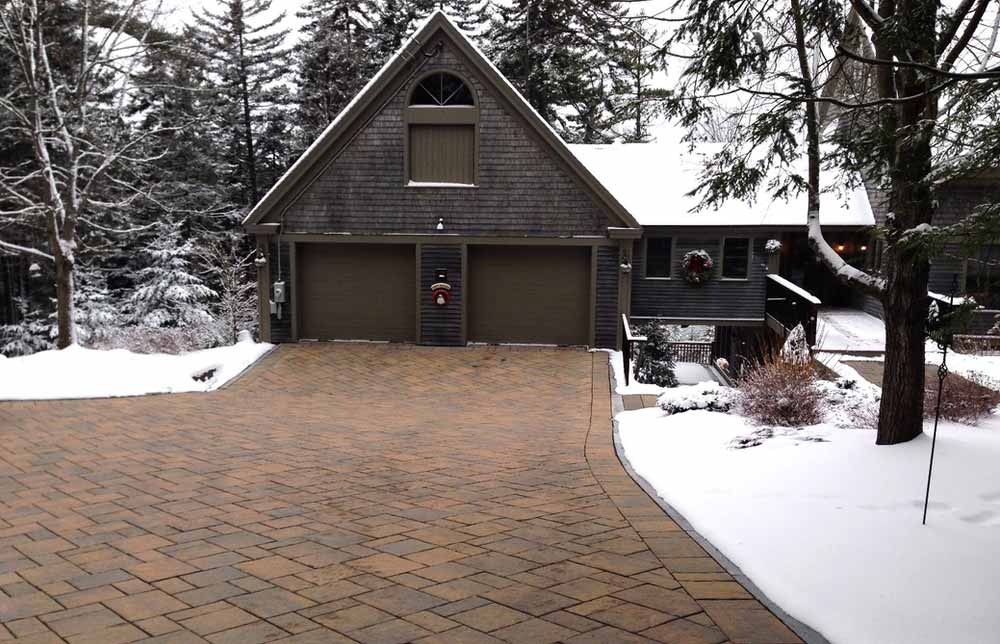 This is a quick read on the advantages and disadvantages of snow melting systems. Some you have considered, and some you may not have thought of.
Snow Melting Systems—The Pros:
NO SHOVELING!
Say goodbye to backbreaking work and say hello to snow-free walkways, driveways, and patios. This is especially helpful for those who are unable to do the physical labor required for shoveling.
SAFETY
Snow melting driveway systems prevent slippery frost, snow and ice build-up reducing slip and fall accidents. For businesses, this can reduce liability and help meet building codes and provide safe walking surfaces for pedestrians. For homeowners, this will allow you to get up a steep driveway or make walkways safe, thus reducing liability.
CHEMICAL-FREE
No more heavy bags of salt or chemical ice melt products. These chemicals can wreak havoc on the pavement, surrounding landscape, and can be tracked inside from foot traffic.
LONGEVITY
Heating pavers, concrete, and stone surfaces evenly will add to their longevity. Surfaces that are heated unevenly are vulnerable to cracking and spalling. By eliminating scraping, chipping, and application of chemicals, surfaces will maintain their original appearance for years.
VALUE-ADDED USES
ThermaPANEL snowmelt systems are capable of working as an invisible solar collector in the warmer months, providing solar hot water for pools and domestic water.
These value added benefits will provide a short return on investment. Tube based and electric snowmelt systems do not have the advantage of providing a return on investment.
Snow Melting Systems—The Cons:
COST
The first cost of snowmelt systems needs to be considered depending upon the type of application and surface being installed.
Items to be considered when deciding which type of snow removal is appropriate:
Code requirements
Type of surface
Type of occupant
Amount of snowfall per year
Type of use
Value of Property
Convenience factor
Cost to install/operate
Hydronic and electric systems generally require installation performed by a mechanical, electrical, or plumbing contractor. Coordination with the paving installer is also required. Operating costs vary from system to system based on system class (I, II, III), type and location.
MAINTENANCE AND TROUBLESHOOTING
Depending on the type of system, troubleshooting and system repair can be difficult and sometimes costly. An electric wire could burn out or a tube could be punctured which means you may have to tear up your concrete or paver driveway to repair it. The other alternative is to bite the bullet and not use the system you just paid money for. Fortunately, snow-melting system popularity has increased so rapidly, and so have success rates and ease of repairs. Systems are made to last often 50+ years, much longer than driveways.
Each type of snow melting system should be considered for your specific application. The ABCs of Snowmelting offers great insight into the pros and cons of each individual system. It should also be kept in mind that a ThermaPANEL snowmelt system can actually provide extra cost savings in the summertime by Putting Patios to Work.
Do you have a snow melting, pool heating, or patio cooling project? Contact us today to discuss it.